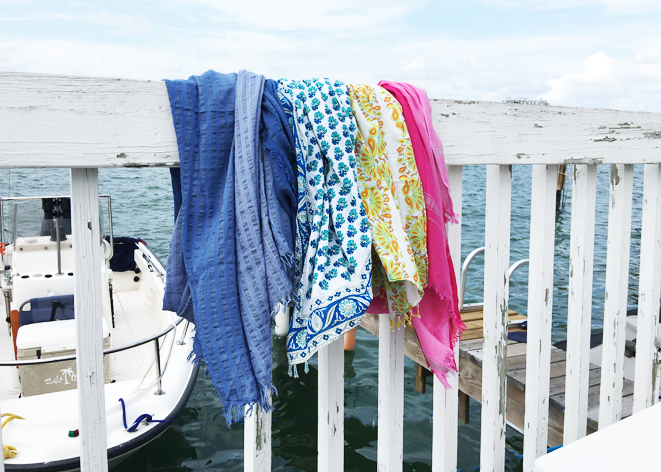 07 Jul

Dana's DO LIST: Summer Fashion Essential – The All In One Wrap

The sarong/scarf/wrap may be my all time favorite summer accessory. It is one of the most versatile pieces in any wardrobe and is definitely a must have for this 4th of July weekend. If you have one of these, you are always prepared – for the beach, pool, BBQ, party, restaurant, train, plane, automobile, and practically anyplace else you may find yourself.

BEACH/POOL – wear it as a sarong, wrapped as a skirt or a dress, over your sexy bikini or one-piece, depending on how much coverage you want, or it can even be used instead of a blanket or towel to lie down and catch some rays.

BBQ/PARTY – wear it as a wrap to keep you warm if the evening gets chilly over your bare summer dress.

RESTAURANT/SHOPPING – wear it as a scarf to look chic with your cute summer outfit and ward off the intense air conditioning in most restaurants and shops.

PLANES, TRAINS, AND AUTOMOBILES – wear it as a blanket to keep cozy when you doze off while traveling to your favorite summer destination.

I'm a little embarrassed to admit how many of these I actually own. Each one is prettier than the next and of course having an array of color choices is handy if not entirely necessary! A few of my faves are Leigh and Luca, Lisa Kline, Calypso St. Barth, and Theodora and Callum.

If you are buying just one, start with a neutral so it will go with everything and everywhere. When you get your second, or third or more, experiment with a fun summer color – whatever works with the rest of your wardrobe – a "go to" color for you.

Now that you are all set to look and feel great, whatever activities this weekend brings, have a fabulous holiday!