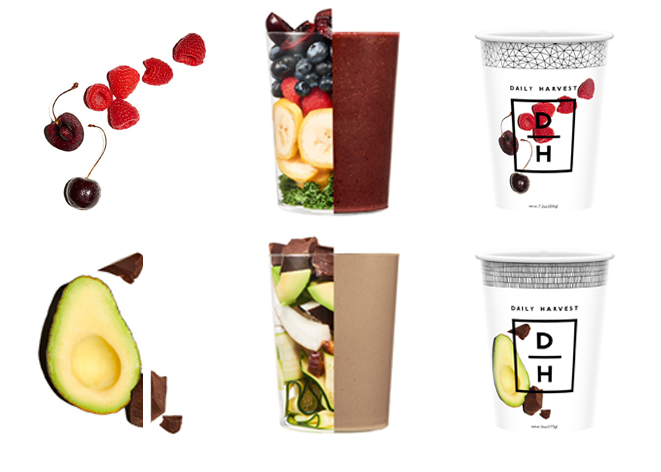 19 Oct

Dana's DO LIST: Smoothies Made Simple!

When people find out that I'm a raw vegan, they always ask, "Isn't it so hard to make that food?" But anyone who knows me, knows I'm the laziest when it comes to food prep. I keep it simple – fruit and salads. I leave the complicated stuff to the pros (code for: I get my raw treats or anything labor intensive from Whole Foods or any of the great vegan cafes wherever I am).

Several years ago, my sister bought me a blender, cause, of course that's what you buy a vegan, right? Well, I got ambitious and used it once and then it sat in my cabinet for years. Finally, during one of my moves, I cleaned out and gave a bunch of stuff away – including my blender. Sorry, sis!

Funnily enough, recently I came across Daily Harvest. They must have had me in mind when they came up with the idea – premade frozen smoothie ingredients, delivered right to your door! All you need to do is add coconut water or almond milk, blend, and voila! Needless to say, I was so excited when my package of 6 different smoothie cups arrived at my door. I couldn't wait to make my first one, until I read the package and realized I needed a blender!

My sister to the rescue, I brought a couple of them, along with some almond milk and coconut water to her house and blended them up there! They were so delicious; combinations I would never have dreamed up on my own: cacao + avocado, blueberry + hemp, and pineapple + matcha to name a few. There are 14 different ones to choose from and each cup has way more than the 2 ingredients in its name. Super unusual and super delicious – different from the typical smoothie fare.

So, if you're anything like me (not exactly a whiz in the kitchen, but I will be replacing that blender!), or you don't have access to the variety of ingredients (mostly organic) in your local market, or you just don't always feel like running out to the juice bar, and you're looking for a healthy super-food treat, look no further than your front door!

Enjoy 3 FREE smoothies with your first order using code: contentedcoconut. Order yours here.