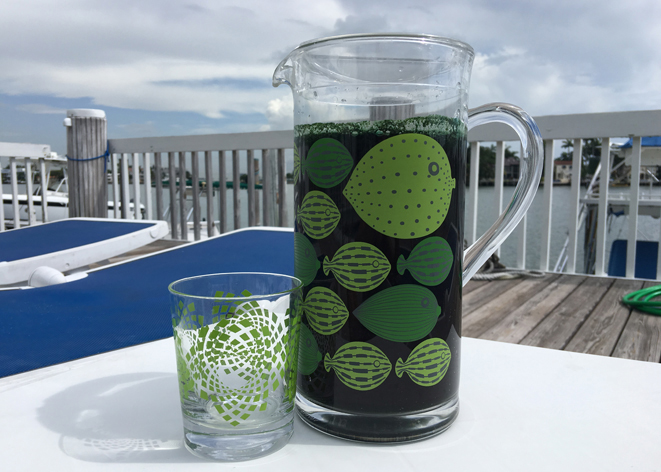 20 Jul

Dana's DO LIST: Green Morning

It's no secret that greens are some of the most important superfoods, so why not start your day strong with a nutrient powerhouse green drink?

The first thing I eat (or drink) everyday is my signature green drink – coconut water (the fresh kind if possible, or Harmless Harvest) mixed with spirulina, chlorella, and Dr. Ben Kim's Greenspowder.

The great thing about this concoction is that I know, no matter where my day takes me, or what will be available to eat (depending on my schedule) that I have pretty much gotten my complete nutrition for the day. (Spinach and/or kale in your salad at lunch just don't cut it as far as getting the amount of quality green nourishment your body needs everyday.)

These superfoods provide complete protein, all the vitamins (including, and especially, b12 for all you vegans out there), and minerals (including iron) you will need for the day. The chlorophyll in these greens is also a potent detoxifier, helping your body eliminate heavy metals and other environmental toxins. Not to mention, the drink itself is satiating and satisfies my appetite for hours.

The sweetness of the coconut water is the perfect balance to the bitterness of the greens. (I am so used to, and actually enjoy, the taste of the greens, that at this point I can actually add my greens to plain water and it still tastes good!) It's all about adjusting the recipe to what tastes good to you.

MY INGREDIENTS:
One glass (or bottle) coconut water
One heaping tablespoon spirulina
One heaping tablespoon chlorella
One heaping tablespoon Dr. Ben Kim's Greens
Add together in a cup/glass/water bottle and stir or shake.
If you prefer more of a smoothie, feel free to add any fruits you like and use almond milk along with, or instead of the coconut water, toss in a blender and voila!
And, if all else fails and you just can't stand the taste or don't have time in the morning, all of these are available in capsule form. I use these when I travel!
Green morning!